December 22, 2014 by Brandon Medenwald
For quite a while, we've fielded questions from our users for the best way to display Simple In/Out to visitors and the general public. We have lots of options, like FrontDesk, Full Screen Mode and Public Links on our website, and even support for Panic StatusBoard. We featured all these methods in a blog post last summer.  However, we've always thought there could be a better way still to get great looking information up onto television screens without the dedicated computer hardware.
Today, we're thrilled to take the wraps off of a project we've had in the works for some time now. We are calling it Simple In/Out TV. Here's how it looks: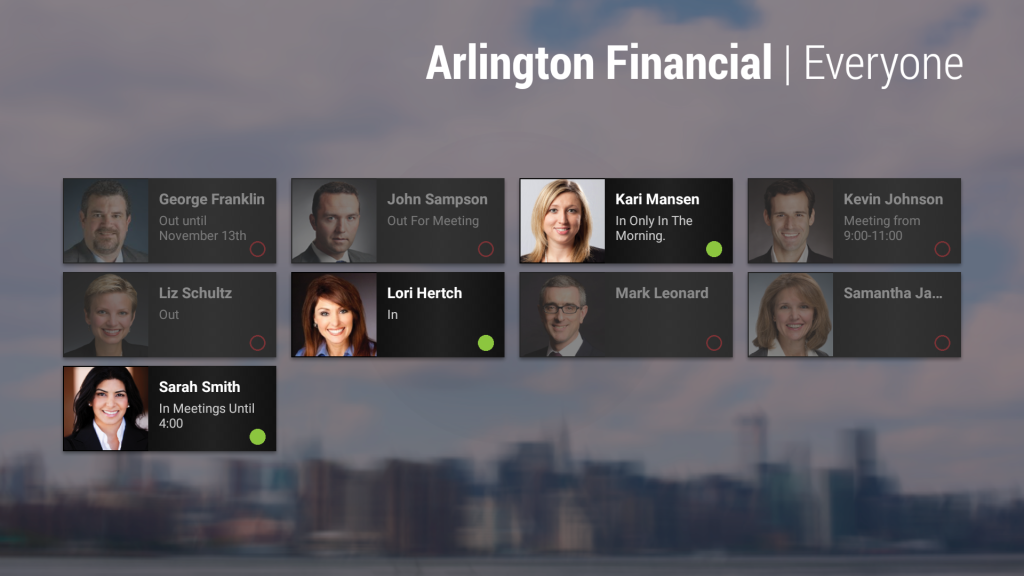 Known internally as Project Carnoustie, Simple In/Out TV is a gateway to your Simple In/Out board you can access right on your television. It's built for Android TV, which means it works today with Google's Nexus Player.  In the near future, it will be able to run natively on great TV sets from partners like Sony, Samsung, and Sharp (more almost certainly will follow).  This means in the future, all an organization will need to have great looking employee presence views in their office is a TV off the shelf and a Simple In/Out account.
Since organizations come in large and small sizes, we've added a bunch of customizability in from Day One.  We support 4 different "card" sizes, ranging from big photos to just the names.  We have customizable scrolling to cycle through the list for large organizations.  We also support a few background images.  And, since Simple In/Out now supports adding user images from all the popular social media sites, it's never been easier to make your Simple In/Out data visually appealing.
We're incredibly proud of the way Simple In/Out TV has turned out.  Stephen Ruda knocked development out of the park, with some of the sparse development information we had access to.  This is also the first project visually designed by our newest employee Mara Paulson.
So, if you have a Nexus Player, or needed a reason to go buy one for your office, download Simple In/Out TV from the Google Play Store today!