New Quick Picks Launch for Simple In/Out's Website and Teams
March 5, 2023
Quick Picks are a core feature, one present during Simple In/Out's debut back in 2011. Users can, with a single click, set both their status and comment to add valuable context to their in/out board. Quick Picks also improve consistency in updates for reporting purposes.
Our Quick Picks feature has been changing over the past 16 months. We started this transition with Simple In/Out's app for Android. Simple In/Out Desktop followed as well. Today, our new status update interface comes to simpleinout.com and the Simple In/Out integration for Microsoft Teams.
These changes begin with a new control for updating your status and typing a comment. The old radio buttons have been replaced with a control showing the in/out symbol. This control is now the default status update control, consistently everywhere you can perform a status update.

Our new Quick Picks interface separates Favorites from Recents. Previously, Simple In/Out had one list containing your favorites and recent updates. This led to confusion because users could only hide a Quick Pick from the list until they next updated their status. Favorites are now 100% curated by the user and the organization. Recents are now in a separate list and are only curated by Simple In/Out. This is the best of both worlds: a Quick Picks list entirely curated by users and a Quick Picks list automatically populated with relevant options.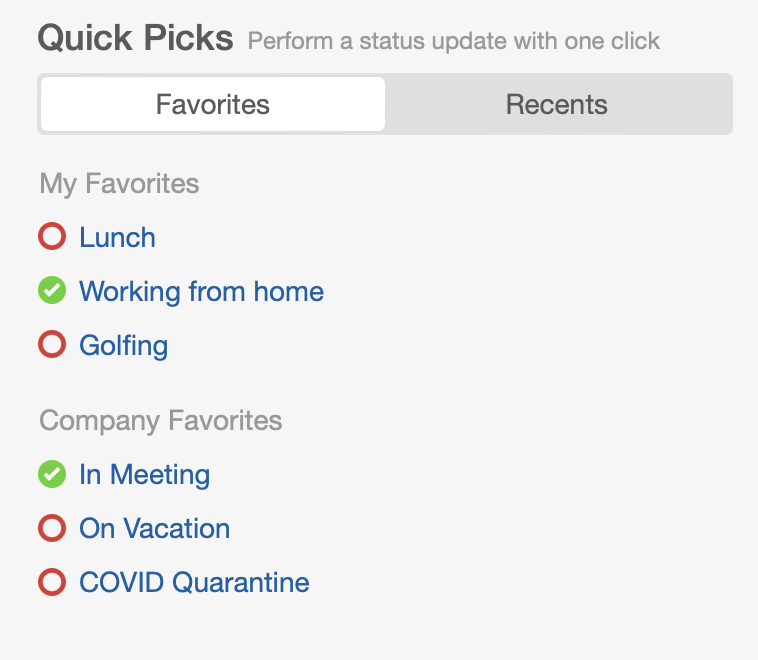 In addition to this new status update interface within our Microsoft Teams integration, we've added your current Simple In/Out status to the Status tab. No longer will users need to head back to the Board tab to see their Simple In/Out status.
We have only one more application to update with these new interfaces: Simple In/Out for iOS. We're hard at work and will ship this change to all iPhone users soon.