The New Simple In/Out Desktop
September 7, 2021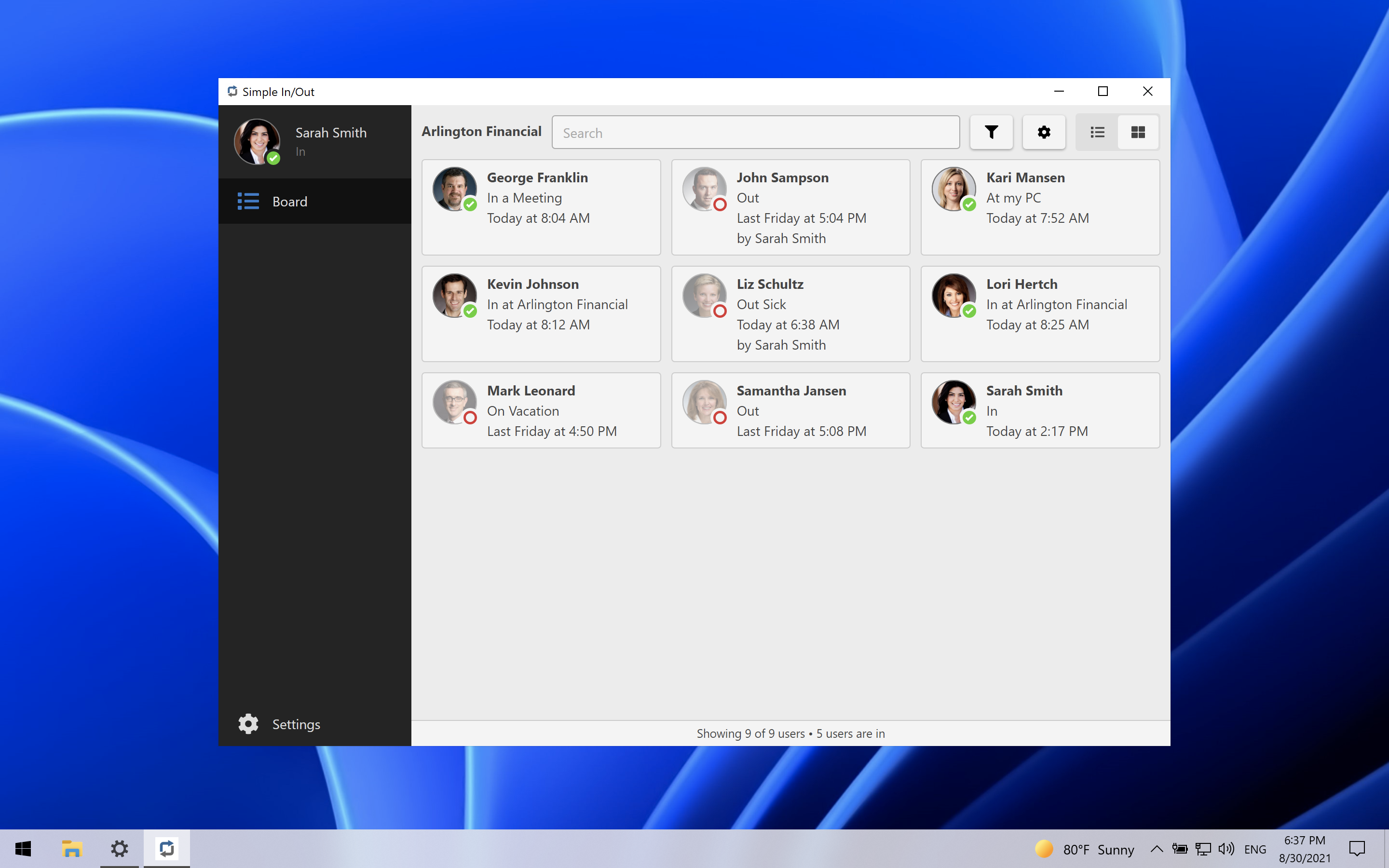 Today is a day we've been working towards for almost two years. After eight months of public betas, we're proud to launch the new Simple In/Out Desktop for Windows and Mac.
We believe it's the best in/out board we've ever built, with more power and customization options than ever before. For the first time, we've delivered a list view in our native desktop app. Like our web board, the list view on Desktop displays loads of user information in a small space. We've also reimagined our grid view, with more options for window sizes large and small. Both of these boards look right at home on your computer because we fully support Dark Mode.
Simple In/Out Desktop continues automatic status updates via your computer's activity. We found the old automatic update system was too sensitive on Windows and too hard to understand on Mac. We've built the new automatic update system to work consistently across operating systems for the first time. We handle a multitude of circumstances much better, whether it's putting your computer to sleep, closing the lid of your laptop, or even losing power altogether. We've also given administrators more control over comments, similar to Geofences.
Of course, we support our Notifications as first-class citizens on Windows and Mac. Whether you're following users, receiving reminders, or utilizing safety notifications, Simple In/Out Desktop has you covered.
We're offering the new Simple In/Out Desktop as a direct download from our website, simpleinout.com. No more app stores for our desktop downloads! Using enterprise device management software to mass-install Simple In/Out Desktop on your computers is easier than ever.
We've removed our old Windows and Mac apps from their respective stores. If you're already using one of our old apps, nows the time to upgrade. In the future, we'll be decommissioning the old apps.
We hope everyone loves Simple In/Out Desktop as much as we enjoyed building it. We can't wait to add more first-class desktop features in the future.