New Year, New Status Indicators for Simple In/Out
January 11, 2018
2018 is going to be a big year for Simple In/Out. We have a slate of amazing upgrades in store and we can't wait to share them with everyone. We're starting this year with a change you'll notice immediately: brand new status indicators!
When we launched Simple In/Out back in 2011, the first version had green and red indicators for IN and OUT respectively. A couple years ago, we moved to what we internally called "the Pill", which was a slim blue indicator for IN and no indicator at all for OUT. This allowed us to make things more compact, but it was far less obvious than green and red.
We've heard your feedback and we proudly present our new indicators: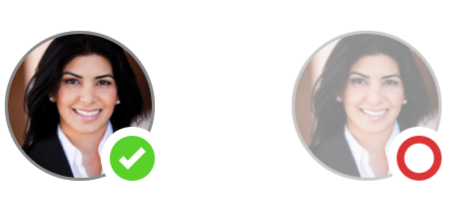 Green and red are back, better than ever before. We've integrated the indicators into the avatars, allowing us to remain compact while also having color that immediately catches the eye. The checkmark and hollow circle also work well for our colorblind users that need to distinguish between the two quickly.
We have new versions of all our apps (except TimeClock) available for download. Our website is already displaying the new indicators, simply reload any page you may be on. We hope this added color pleases everyone, but as always reach out and let us know what you think.