Simple In/Out TV Arrives for Amazon's Fire TV
November 2, 2016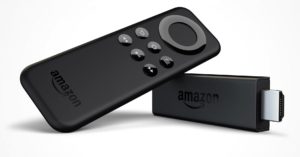 In the early days of Simple In/Out, we knew we needed to build a product that allowed users to quickly see the board no matter where they were.  This meant building a fast, easy to use app right on your favorite phone.  Soon afterwards it became clear that Simple In/Out also needed a great way to display your board for the world to see.  For this, we've built many features like Public Links, Fullscreen Mode, FrontDesk, and Simple In/Out TV.
Simple In/Out TV is perhaps the easiest to use of the bunch. We built Simple In/Out TV to look great on your television, which you can set up in common areas for your users to see as they come and go.  We first built Simple In/Out TV for Android TV, and added AppleTV support with the release of tvOS.
The only downside to using Simple In/Out TV has been the cost to entry. Android TV devices are getting harder to find and even Google has killed its Nexus Player.  AppleTV is a neat platform with room to grow, but the lowest cost device that supports apps in $150.  For some businesses, this is a lot of money to spend for an in/out board.
Today, we're happy to announce that Simple In/Out TV has come to Amazon's Fire TV platform.  With this addition, businesses have a great low-cost option to get Simple In/Out on their televisions.  As of today, you can purchase a Fire TV Stick for only $39.  Now it's significantly less expensive to place Simple In/Out TV in all sorts of places, right where your users are located.