Simple In/Out Ships for Windows Phone
April 10, 2015
We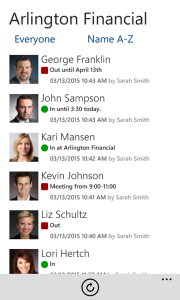 receive a lot of requests here at Simply Made Apps for our flagship product, Simple In/Out.  Over the years, one of our most requested features has been bringing Simple In/Out to other platforms.
We've had a Windows 8 Desktop app for some time now.  With the release of Windows 8.1, Microsoft has allowed for the first time ever built-in OS support for Geofences, our signature feature.  With that, we went to work to test if it worked well enough for our purposes.  Today, we're happy to announce we're releasing the first version of Simple In/Out for Windows Phone.
While this version of Simple In/Out doesn't supporting everything currently in our iOS/Android apps, we believe this is a solid start.  With more demand, we'll add features over the coming year.  We don't yet support Push Notifications or Beacons, but with Geofences supported, this app will be incredibly useful to the majority of our users.
For our Windows Phone folks, we say "Welcome to Simple In/Out"!