New to Simple In/Out: Public Links
March 30, 2013
Here at Simply Made Apps, the new features are coming fast and furious.  We have some really wonderful things in the hopper.  Tonight, hot on the heels of our new Daily Timeline report comes another big feature request from our users:  Public Links.
Many of our customers have a need to show the Simple In/Out board to folks who aren't logged in.  Maybe this is for display purposes outside their control.  For some, they want to integrate the board right into their company intranet, wiki or SharePoint.  Other customers want to provide their in/out statuses to people who will never be members and require logins.
To solve this, we've created a new way to generate Public Links.  These links can be shared with anyone or embedded anywhere without the need to log in and authenticate with our system.  They provide the same look at the board that you receive inside Simple In/Out, complete with groups, filtering, sorting and auto-refreshing all supported.
To create your own Public Links, simply have an admin user navigate to Settings -> Company Settings on simpleinout.com.  On this page is a brand new section called Public Links that will look like this: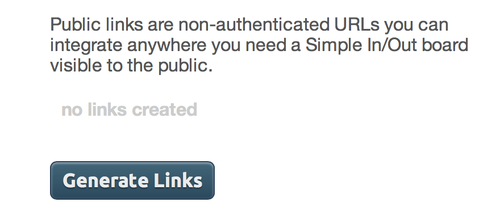 By clicking Generate Links, you'll be presented with two new links you can distribute as you see fit.  They will look like this: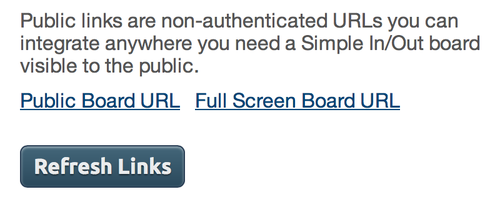 The first link will show you the standard board.  The second link will immediately place you in our new Full Screen Mode.  You can still switch between the two views anytime, but this beginning place makes integration even easier.
Once these links are generated, they will work for anyone and anywhere you share them.  For an extra bit of security, you can click the button to "Refresh Links" if you wish.  By doing this, you're old links will stop working and you'll be presented with new links.  This will allow you to kill your Public Links if they have fallen into the wrong hands.
We believe Public Links really strikes a good balance between ease of use and security.  This is the first of hopefully several enhancements to make integrating Simple In/Out even easier.  We can't wait to show you what we have in store next.